Manual & Automatic Gearbox Repairs
We're Gearbox Specialists in Surrey and London
Gearbox repairs, whether automatic or manual gearboxes, are our speciality and we offer repairs on minor issues to complete overhauls. We will do our best to diagnose any problem you have with your vehicle and help to rectify it to get you back on the road as soon as possible.
If perchance your gearbox can't be repaired, we can supply and fit reconditioned gearboxes at very competitive rates. We have 5 ramps in our fitting bay and our main workshop where we do all the modern cars.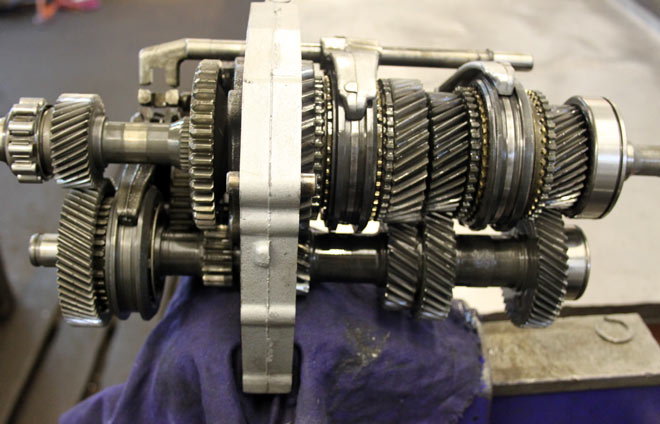 If you would rather fit a reconditioned gearbox yourself, units can be despatched to you by courier
Unit Already Removed?
We are quite happy to take the units already removed from the vehicle or if you wish, or we can offer a full fitting service to all types of vehicle – modern and classic. The very nature of taking gearboxes out means that we are expert at fitting clutches and flywheels if that is all that you require. If you have any questions regarding any of our services then please don't hesitate to send us an email or alternatively you can talk to one of our friendly team members by calling 01372 378927.
We Service & Repair
Manual Gearboxes
Automatic Gearboxes
Axles and Differentials
4×4 Transfer Boxes
Dual Mass Flywheels
Gearbox Guarantee
As you would expect from any professional company all our work comes with a guarantee, please don't hesitate to ask one of our friendly team members for more details.
Gearbox Repairs for Modern Cars
Audi
BMW
Chevrolet
Chrysler
Citroen
Daihatsu
Fiat
Ford
Honda
Iveco
Jaguar
Kia
Land Rover
Mazda
Mercedes
Mini
Mitsubishi
Nissan
Peugeot
Range Rover
Renault
Saab
Seat
Skoda
Subaru
Suzuki
Toyota
TVR
Vauxhall
Volkswagen
Volvo
Gearbox Repairs for Classic Cars
AC
Alfa Romeo
Allard
Alvis
Aston Martin
Austin
Austin Healey
Ginetta
Jaguar
Land Rover
Lotus
MG
Mini Cooper
Morgan
Morris
Rootes
Rover
Scimitar
Sunbeam
TR4/6
Triumph
TVR
VW Beetle
Wolseley